Letters in Focus: Carmelite Capers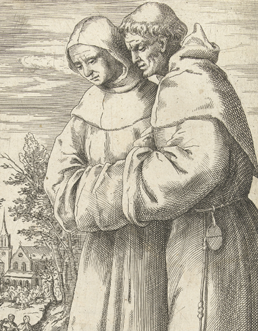 Part of my work on the Bodleian card catalogue involves identifying people mentioned in the abstracts and when two friars, going by the names of 'Joan: Mario, and Julio Cesare', appeared on my screen in a letter dated 14 February 1614, the temptation to find out who they were proved too great to resist; little did I realise that one small card would have such a tale to tell.
Besides these names, the only information from which to launch my search was that they appeared to have been in England in 1614 when John King (Bishop of London from 1611 to his death in 1621) was writing, possibly to Thomas James, the first librarian of Thomas Bodley's collection (the Bodleian manuscript is in James's hand), with the information that the duo had 'proved themselves false', that the 'former has escaped & the latter has given a very equivocating answer when examined before the Archbishop and other Bishopes'.
From an online search, Giulio Cesare Vanini, also known as Lucilio, a Carmelite friar, born c.1585 in southern Italy, emerged. An entry for him at the Galileo Project describes 'a charismatic character and wherever he went he collected patrons like flies around honey' including none other than Dudley Carleton, English ambassador in Venice from 1610-15, whom, apparently, he charmed 'right out of his shoes'. A Carmelite, Vanini had moved from Naples to Padua where his Venetian sympathies incurred papal disapproval and, in consequence, he was granted asylum in England, where he renounced his Catholic faith and was taken in by George Abbot, archbishop of Canterbury. Nowhere in this account, however, was a 'Joan: Mario' mentioned. Googling every conceivable variation of name with a selection of dates, I picked up a link to an article of 1895 in The English Historical Review. And here was Giovanni Maria, fellow Carmelite and travelling companion of Vanini; the two appear to have met at Padua.
Having converted and renounced Catholicism, the friars hoped for advancement and when this did not materialise (the article by Richard Copley Christie continues to quote John Chamberlain relaying to Carleton that Vanini was unhappy as he was 'fain to make his own bed and sweep his chamber, things he was never put to in the place whence he came'; whilst Giovanni Maria, who was at this point lodging with the archbishop of York, Tobie Matthew, complained that he was used to living 'not in cities not towns but in villa, and thereupon subscribed his name Johannes in Deserto') made overtures back to Rome. In February 1614, Giovanni Maria escaped from a window in the house where he had been placed by Abbot, climbing down a rope fashioned from sheets. Vanini was imprisoned post-haste in the Lambeth Gatehouse, and there was talk of banishing him 'into the Barmudas there to dig for his living'. Yet he too contrived to escape and crossed the channel. Bermuda might have proved a happier destination, for he met his end at the stake (having first had his tongue cut out) in Toulouse in 1619. Of Giovanni Maria, who seems to have been spirited abroad by the Spanish ambassador, no more is heard… and John King moves on to the Index Expurgatorius.
Miranda is editing metadata from the Bodleian card catalogue of correspondence for our union catalogue, Early Modern Letters Online. Each week, she brings us hand-picked and contextualised records.